Marshal Lion Group is a company that dared to transfer its achievements in fiat finance to the blockchain platform. The company has been operating since 2015 in the non-bank lending market. During this time, more than 10 thousand satisfied customers made up the company's portfolio. But there could have been even more of them, if not the well-known problems: the need for guarantees, intermediaries, the involvement of third parties, lengthy coordination and clarification. Marshal Lion Group found a solution for these problems – this is blockchain. Everything is transparent, fast, and therefore cheap. With the use of the blockchain platform, the Marshal Lion Group provides loan requirements for enterprises, individuals, private and public sector. Blockchain opens up new opportunities for customers, without new risks to the company. Decision time is reduced many times. Time-consuming processes are automated by smart contracts. Blockchain is used in three main areas of work according to the B2B model:
the private sector, with loans for a period of a month to 6 months;
public sector, loans for 3 to 6 months;
hybrid loans – loans for 1 to 6 months.
An innovative solution on the blockchain expands the area of the Marshal Lion Group. Therefore, its MLGC token has been launched. The token allows investors to participate in the company's business and receive up to 50% of the profits from the sale of its products. 1.25% of tokens are directed to the airdrop – 120 tokens per participant (about $30).
Furor in the Middle Kingdom
The business visit of Marshal Lion Group management to China is justified in many respects. China is the second economy; Chinese business is known for large investments around the world. The blockchain community is also largely formed by the citizens of the Middle Kingdom. The presentation of the Marshal Lion Group project for the largest players in China's cryptocurrency market hit like a bombshell.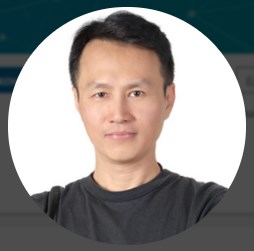 The Chinese did not expect this from a European country. Meetings at the largest ICA and ICF funds ultimately resulted in ICA co-founder Jason Hung became an adviser to the Marshal Lion Group (MLGC) project. Here is his opinion: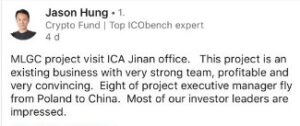 In the Middle Kingdom, the Marshal Lion Group also held fruitful meetings with the management of large exchanges, such as OKEx, BitForex, IDAX. This means that the MLGC token listing issue is no longer a problem.